One Woman's Journey to Discovering Meditation
Despite practicing yoga for more than 15 years, I had never really thought much about the meditative component of my practice.  While my mind was much calmer in the yoga room, truth be told, I sometimes wonder how present I really was. I was doing, not being, and would more often than not, revert to overdrive as soon as I left the studio.  In retrospect, I believe my meditative practice was more about mindlessness than mindfulness.
And then, two years ago, a yogi friend of mine started caring for someone that was dear to him who was dying from terminal cancer. Despite the pain of watching someone close to him die, my friend not only remained grounded in calm, but in inner peace. To be able to revert from sadness to peace or from anger to love is truly an exceptional gift in which I was in awe.  As I've learned, true yogis don't preach, but emulate. His lovingkindness was contagious – and thus began my journey into mediation.
With little information on techniques, I tried to practice mediation techniques in the mornings in my living room before my kids would wake, but the distractions were too much — for me, at that time. It was then that I decided to attend a daylong retreat at Spirit Rock,  a meditation center in Marin County, California.
The daylong retreat included systematic instructions, silent sitting, walking meditation, and a dharma talk. And yet, I left feeling more frustrated then when I arrived. Despite spending the entire day, meditation was not coming naturally to me. So was my  ate even in yogadom of expecting immediate knowledge and gratification.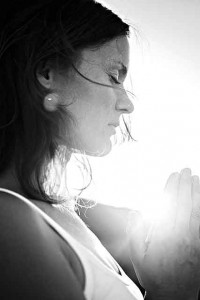 But I continued to practice, when and where I could, but rare were the days when I could silence my mind for more than five minutes.  But as fate as a path for each of us, an opportunity came to me at the time I most needed it to go to an Ashram In the Himalayas. After 14 days of daily practice in a variety of settings, including morning mediations, silent meditative walks and guided evening meditations (and no contact/distraction from the outside world), I made a break-through. It was so simple: the key to a mindful meditation is understanding that there is no right or wrong way to do it, but to just be in your breath and not think about it.
After returning to the States, with the confidence that I could meditate for more than what felt like a fleeting minute, I wanted to explore meditation further.  I went back to Spirit Rock, only this time I was going to try a retreat in which there would be not only no contact with the outside world, but no silence within the retreat as well. SO, after an evening orientation, the retreat became silent, with the hour long exception of a daily 1:1 meeting with one of the four instructors, which was designed to help answer questions and make sure your practice was not bringing up anything that was beyond your control.
For whatever reason, I came to the silent retreat thinking, silence would be easy – like a vacation!  No contact from the outside world, and not having to chat with attendees over meals. How nice would that be to just be. But what I was unprepared for was how difficult it would be to exist in silence day in and day out….
By the third day, I was thinking I might go crazy. How much I missed mindless chatter, both out loud and online! But there was also was the break through: to challenge myself to instead to inward, to breathe, to breathe more – and to ignore the chatter in my head that wanted to chatter out loud. It was the discovery that our minds needs to managed almost as if we are remote from them, whether it's a "sush", "let it go" or "forgive".  During that evening meditation, I not only sat comfortably for 20 minutes, but found a sense of peace that I had never experienced before.
Now, after two years of practicing, I'm still learning how to meditate. Like yoga, I've discovered there is always something to learn and that I will always be a beginner. But I embrace my evolving spirit of not only how I practice, but how I share that energy with others, whether in silence, gratitude, peace or loving-kindness.
Through meditation, we establish a new relationship to inner tendencies such as desire, anger, and confusion. By seeing these states clearly as they are, we are no longer controlled by them.
As we find balance among the changing conditions of life, we see that wholesome qualities such as patience, generosity, and compassion emerge naturally. We discover that our essential nature is freedom and clarity, and that we need only rest in that nature.
3