Probiotics? Enzymes? Glucaric Acid? Glucosamines? All these helpful ingredients come together in a popular beverage called Kombucha (pronounced kômˈbo͞oCHə/).
Kombucha is  produced by fermenting sweet tea with a culture of yeast and bacteria, and is showing up in the refrigerated sections of more and more yoga studios and becoming the go-to beverage for yogis after a vigorous practice. In addition to being refreshing and low on sugar and calories, kombucha labels also claim many other health benefits such as being rich in probiotics, antioxidants, enzymes and organic acids. But how does this mumbo gumbo translate into what it actually does for our bodies?
Here Yoga Simple takes a stab at unraveling this simple beverage's extensive health mantra and examining the benefits of kombucha tea.
What's Inside Kombucha?
Probiotics
Probiotics are the beneficial microorganisms, which, among other actions, help to crowd out harmful bacteria in order to keep us healthy. This is important because more than 70% of the body's immune defences are thought to be based in the gut.
Because it is naturally fermented with a living colony of bacteria and yeast, kombucha is a probiotic beverage. This has a myriad of benefits such as improved digestion, fighting candida (harmful yeast) overgrowth, mental clarity, and mood stability. As such, it's noted for reducing or eliminating the symptoms of fibromyalgia, depression, anxiety, etc
Enzymes
Enzymes are proteins that break food down into digestible nutrients that can be absorbed and utilized by the body. Because kombucha is not heat pasteurized, it is still in raw form, which keeps the enzymes intact, which in turn aids in the digestive process by putting less stress on your body.  NOTE: Some companies pasteurize and/or filter their kombucha, although the ones we list below are all raw.
Glucaric Acid
Kombucha is very high in glucaric acid, and recent studies have shown that glucaric acid helps prevent cancer.
Glucosamines
Kombucha is rich in glucosamines which helps preserve cartilage structure and prevent joint degeneration. Glucosamines increase hyaluronic acid production within the joint which binds moisture thousands of times its weight in the joint cavity. This provides the joint with structure, moisture, lubrication and flexibility while protecting against free radical damage.
Kombucha Brands
Following are a few of our local favorite brands of Kombucha, as well as some unique ways to purchase them.
Revive
Revivekombucha.com
What we also love: A deposit is collected on each Revive kombucha bottle (sold in 14oz and 64oz sizes) to ensure bottles are returned for reuse. As a result, Revive has diverted over 130,000 amber glass bottles (180,000lbs of glass) from the landfill.
GT's Kombucha/Synergy Drinks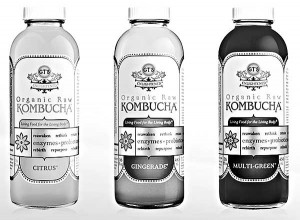 Gtskombucha.com
What we also love: GT's Kombuchas now makes 20 different flavors/varieties of Kombucha products, including one with chia seeds: From the bottle:
"Chia is a nutrient-rich superfood that provide sustained energy for your body. Packed with more than 8 times the omega 3′s found in salmon, this small seed has big nutritional value. With more antioxidants than blueberries and more fiber than oatmeal, see for yourself how chia brings new life to our GT's Kombucha."
Health Ade
health-ade.com
What we also love: Health-Ade can be delivered by the bottle or case (12 bottles) to any Los Angeles area doorstep!
Kombucha Dog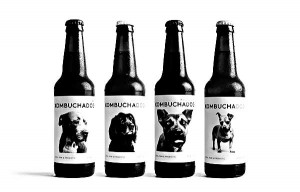 kombuchadog.com
What we also love: In addition to being able to purchase it by the bottle, you can now purchase it on tap at The MisFit in Santa Monica at $6/glass.
Also, the dogs featured on the front of every bottle are Los Angeles-based rescue dogs ready for adoption. So far Kombucha Dog has helped over 50 dogs find their new forever homes.
According to the American Cancer Society , while there is no scientific evidence to support claims that Kombucha tea promotes good health, prevents any ailments, or works to treat cancer or any other disease, kombucha tea has been promoted as a cure-all for a wide range of conditions including baldness, insomnia, intestinal disorders, arthritis, chronic fatigue syndrome, multiple sclerosis, AIDS, and cancer.
Perhaps there is a reason why it was Known as the "Immortal Health Elixir" by the Chinese and originating in the Far East around 2,000 years ago.
All I can say is that I have been drinking the stuff for three years and have not been sick once.
1